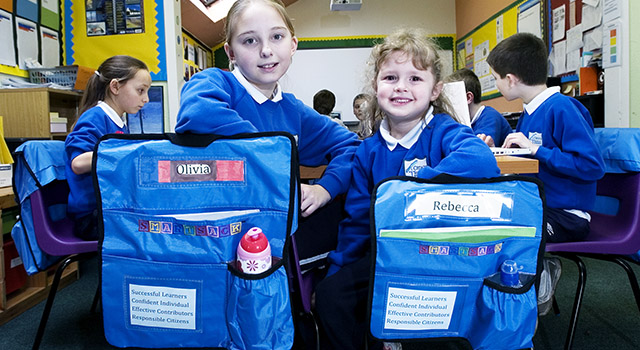 The Product
The SMARTSACK™ has three storage pockets – the large one holds workbooks etc, the small (left hand) one holds a calculator, diary, pencils etc and the innovative insulated pocket is perfect for cool drinks. The padded seat back encourages children to sit upright comfortably in their chair rather than to slouch forwards.
We have developed The SMARTSACK™ with another unique and exciting use in mind. The modern curriculum focuses on active learning and taking lessons outdoors is increasingly important. The SMARTSACK™ can be emptied and taken outside to sit on. It is weather proof and can be wiped clean quickly and easily. The integral padding makes it comfortable for sitting – ideal for active learning!
Teachers may choose to use the SMARTSACK™ as a convenient way to distribute materials to each child or to help pupils organise items that they need to use throughout the day. Alternatively, teachers may let the pupils decide what goes into their SMARTSACK™ – extra pupil storage never goes wrong. Either way, an uncluttered desk is the great advantage of this product. It is also incredibly neat against the chair so no additional classroom space is required.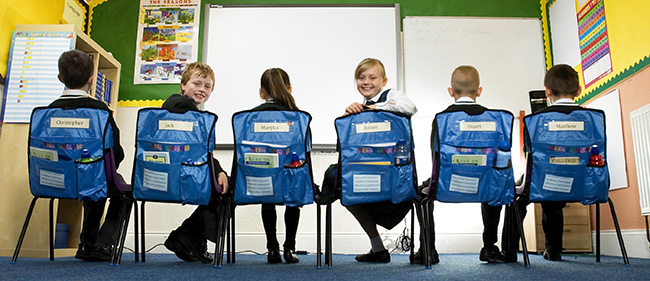 ---
Testing and Standards
For compliance with European Standards on Safety – the Smartsack has been tested and passed by test house SGS on the following sections -:
BSEN 71 – 1: 2005 – safety of physical and mechanical parts – PASS
BSSEN 71 – 2:2006 – flammability – PASS
BSEN71 - 3:1995 – toxicity – PASS
Smartsacks are guaranteed for a period of 6 months from purchase (subject to normal wear and tear).